Welcome to Driver Bali
We offer you a wide range of Bali travel services including car
rental by the day or to any destination in Bali. We can also offer
you a single or multi day customized tour of Bali taking in as many
destinations as you like. Check out full-day or half-day tours on
the directories to get an idea of what is possible and then create
your own Balinese holiday. Anything is possible, we can help you
with all your Bali travel and tour requirements, just tell us what
you need and we will arrange it. From daily car rental or a one
way trip to anywhere in Bali, we can get you wherever you
want to go. Not only can you go anywhere in Bali but you'll be
in a comfortable, air conditioned vehicles. We offer you wide
range of choices depending on your budget, the number of
groups and the type of vehicles you like. I can provide you with bus
(40 seats, 30 - 35 seats, 21 - 25 seats, Mini bus 16 - 10 seats), Van
or combi and also luxurious cars (limousine).
Satisfaction guaranteed mix and match for a free & easy holiday plan,
our bali driver Language proficiency : English, Japanese, Indonesian,
Balinese. We are a Bali driver and tour specialist, let us make your
Bali vacation the best holiday ever.
Vehicles Choices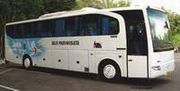 Bus
Rent a big bus for a day trip (Approximately up to10 hours) in Bali. You can choose or create your own itinerary. More info…