Home » My Services » Bali Half Day Tours
Bali Half Day Tours
Uluwatu Temple & Seafood Dinner
Set out mid-afternoon for the southernmost tip of Bali, GWK culture park/Nusa dua area will be first stop,then to Pura Luhur temple at Uluwatu. Watch the monkeys campering around the cliff side over-looking the Indian Ocean, and enjoy superb sunset views. A barbequed seafood dinner follows on the sands of Jimbaran Bay back in the hotel about 9.pm.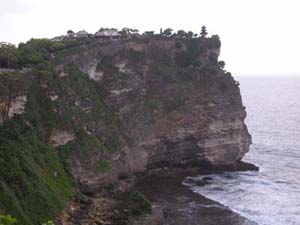 Ubud Afternoon and Legong Dance Tour
This package is starting at Tohpati village to see batik processing then to Celuk very famous with Gold and Silver smith, next we go to Batuan Village to see artist work painting and Mas village to see wood carving. After that we visit the Monkey forest then a nice panoramic rice terrace at Tegallalang village with "Kokokan" (white herons) hanging on the trees. Most completely on the way back before see legong dance we will visit Ubud Market.
Legong Dance
Everyday Saturday/Monday (3 hours) tour start 04.00 - 04.30 PM
A classical legong and great dance and is always performed by pre-pubescent girls. This dance tell story of princess Rangkesari who is held captive against her will by king Laksmi. It would be presented at Puri Saren Kangin, Ubud Palace. We would also see the other dances, such as : Baris dance, Oleg Tambullingan dance and others. Most completely on the way back before see legong we are visit to Petulu village very famous with thousand white herons hanging on the bunut trees.
Kecak Dance And Fire Dance
Everyday (4 hours) tour start 05.00 - 05.30 PM
The most famous of the Balinese dance, the Kecak originated from Sandhyang Dance choirs by large group of chanting men sitting in a circle, waving their arms and swaying to and from in time the chant.
Denpasar City Tour
Everyday (4 hours) tour start 08.00 - 08.30 AM
In this half day trip we would visit the Bali Museum, which possess splendid collection of art. Then we would visit Kumbasari Denpasar, stop in one supermarket and department store in Denpasar. After that we visit Art Centre is the last trip where we could see the collection of comtemporary paiting and carving.
Uluwatu Sunset Tour
Everyday (4 hours) tour start 04.00 - 04.30 PM
Afternoon tour, featuring : Kuta beach the world famous white sandy beach, Jimbaran bay for fisherman village that turned into beach cafes. Next stop is the ancient temple Uluwatu precariously perched a top a cliff hundreds of meters above the Indian Ocean. The temple this home of friendly monkey and beautiful sunset also can be seen there.
Tanah Lot Temple Tour
Everyday (6 hours) tour start 14.00 - 14.30 PM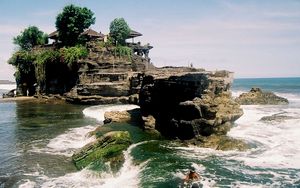 Afternoon half day tour, this journey takes us north west Bali through country side and village of Kapal. We stop at Mengwi to Royal family temple which is famous for its Taman Ayun which surrounded by water and has a central pagoda style temple. Next visit to Alas Kedaton Monkey forest, the resident of monkeys. The nearby jungle hides an ancient Bukit Sari Temple is populated by fruit bats hanging cluster from the trees. The final stop is the spectacular Tanah Lot temple which stands proudly above the ocean on rocky platform where you will see Bali's most beautiful sunset.
THESE PACKAGES HERE ARE JUST SAMPLES. YOU CAN USE IT OR ARRANGE YOUR OWN ITENERARY. EVERYTHING COULD BE DISCUSSED. WE ARE VERY REALIABLE AND FLEXIBLE.