Home » My Services » Bali Cycling Tour
Bali Round Trip - Bali Cycling Tour
Cycling tour (Morning Trip Only)
Bike through some of most beautiful scenery bringing into the nature and culture life style of natural Balinese life. After a fun and healthy morning cycling, than lunch box will be provided at break point surrounded with rice field view.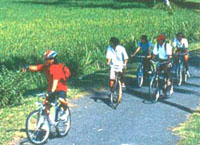 US$ 35 Adult
Child : US$ 25 / Person (5-12Years Old)
Family : US$ 120 (2 Adult + 2 Children)
Cycling tour includes :
Air conditioned hotel transfer, morning coffee/tea with snacks, refreshment, lunch box and insurance cover.
What to bring :
Payment to voucher, hat, sun block or sun screen. short pant and sport shoes.
Trip Ratings for Mountain Bike trips
Introductory trips:
This level is for those with little or no off-road experience. The vast majority of young people can participate and succeed at this level. On the introductory level, you'll find a gentle progression toward more technical trails and skills.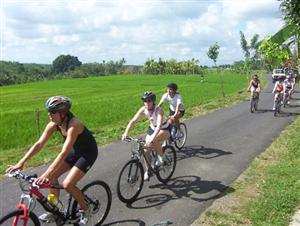 Intermediate trips:
At this level some trail experience or fairly good athletic ability is important. If you don't have experience when you sign up, you can spend weekends in the spring getting used to riding off road before your trip starts. We start with moderate trails and the trip will progress faster than the beginner level.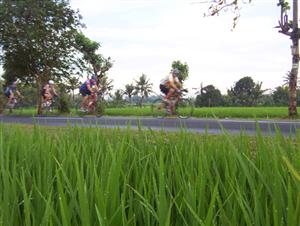 Advanced trips:
On this level solid mountain bike skills and good athletic ability are required for the safety and enjoyment of you and your group. We ride more advanced and extended trails which require greater perseverance and finesse. These trips are not for new mountain bikers; experience on the trails is a prerequisite.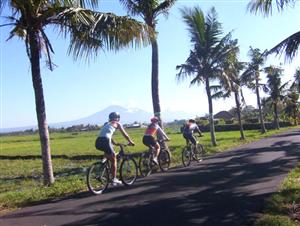 Cycling Locations

Batur, Tanah Lot, Bedugul
Batur, Bedugul, Uluwatu
Batur,Bedugul, Uluwatu
BaliTourism Highlights
Distance

25 km - 30 km

25 km - 30 km
30 km - 40 km
40 km – 60 km
Cycling Time
08.00 am - 16.00 pm
08.00 am - 17.00 pm
08.00 am - 17.00 pm
08.00 – 13.00 or
13.00 – 17.00

Riding C Conditions, Special Interest

Easy riding, flat surface, Village road, low traffic, asphalt, bund (road between rice field), terrace rice view, sunset view, and farm area.
Cross Country, bumpy road, beach rock, bund, sand, asphalt, terrace rice view, sunset view, and farm area.
Off road, Downhill, beach rock. Single trail, Tropical forest, Cross country, climb rock, coral, black rock lava
Fun bike / MTB Advance. The riding location is point to point or full day by cycling.
Bicycle Equipment

14 gear

27 gear
Own bicycle
14 / 27 gear

Vehicle Transfer

Mini bus / Van
Mini bus / Van
Mini bus / Van
Mini bus / Van

Meal
(Indonesian, American, Continental, Buffet Lunch)

Lunch, Refreshment

Lunch, Refreshment

Lunch, Refreshment

Breakfast, Refreshment

Entrance Free Cycling Area

Include
Include
Include
Include
Price 1 pax/day
$.95
$.97
$.99
$.164
Price 2 pax/day
$.119
$.122
$.123
$.211
Price 3 pax/day
$.149
$.151
$.154
$.271
Price 4 pax/day
$.185
$.189
$.193
$.331
Cycling Guide
English guide
English guide
English guide
English guide