Home » My Services » Bali Cruise Tour
Bali Full Day Tour - Bali Hai Beach Club Cruise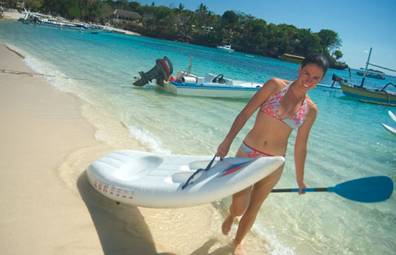 Experience the unspoilt charms of a peaceful tropical island with our Beach Club Cruise. After cruising in comfort to Lembongan Island aboard our luxury catamaran Bali Hai II, you are transferred to our private Beach Club only minutes away. Here you can relax on golden sands, lie back in the shade of the tranquil gardens, or cool off in our lagoon pool. If the mood takes you, an array of activities includes pool volleyball, banana boat rides, snorkeling and island excursions. And to add to the tropical atmosphere there's an appetizing BBQ lunch, which includes salads and fresh fish grilled at our pool-side cabana.
Departs at 9.15am - Returns at 4.15pm
Price : US$85
Children 4 to 16 years half fare
Infants under 4 years free
Family Package US$229 - 2 adults + max 3 children (4 to 16 years)
Includes:

Air-conditioned hotel transfers
Morning/afternoon tea and snacks
BBQ Lunch
Snorkeling equipment and tours
Glass bottom boat rides
Beach/pool games
Children's Club
Unlimited banana boat rides
Village excursion
Sea Kayaks
Semi Submersible Coral Viewer
Bali Hai Reef Cruise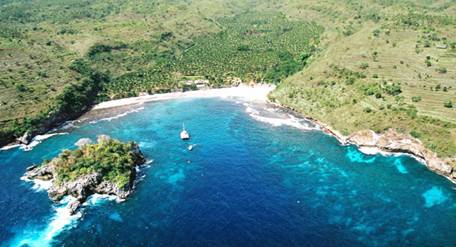 Our Island Reef Cruise offers a full day's activities - above and below the water. The luxury Bali Hai II catamaran moors alongside our purpose-built pontoon in peaceful Lembongan Bay.

See the island's exotic marine life and colourful corals from the comfort of our semi-submersible coral viewer.

Try snorkeling for a closer look or enjoy a host of other activities: unlimited banana boat rides, a cultural tour of the island or our exciting 35 metre waterslide. And when you've worked up an appetite, feast on a delicious buffet served in air-conditioned comfort.
Departs at 9.15am - Returns at 4:15pm
Price : US$85
Children 4 to 16 years half fare
Infants under 4 years free
Family Package US$229 - 2 adults + max 3 children (4 to 16 years)
Includes:

Air-conditioned hotel transfers
Return transfers to Lembongan Island aboard the luxurious catamaran Bali Hai II
Morning/afternoon tea and snacks
International Buffet Lunch
Semi Submersible Coral Viewer
Village excursion
Unlimited banana boat rides
Snorkeling equipment and instruction
35m Water Slide
Bali Hai Sunset Dinner Cruise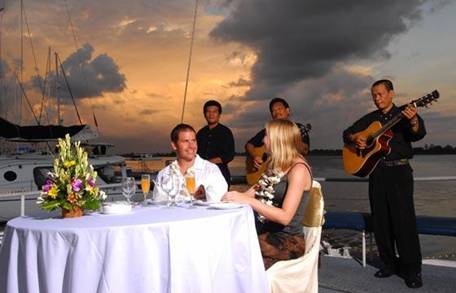 There's no better way to spend a balmy tropical evening than on Bali Hai's evening Dinner Cruise. As the sun goes down we set off on a relaxing cruise around the harbour. Take in the cool night air on the top deck, be entertained by our famous strolling Batakos Singers, savour a delicious international buffet dinner, then dance the night away at our disco or enjoy our live cabaret show.
Departs at 5.45pm - Returns at 8.45pm
Price : US $ 40
Children 4 to 16 years half fare
Infants under 4 years free
Family Package US $ 109 - 2 adults + max 3 children (4 to 16 years)
Includes:

Air-conditioned hotel transfers
Welcome cocktail and floral lei
International Buffet Dinner
Live cabaret show
Live Guitar Band
Hai Tide Huts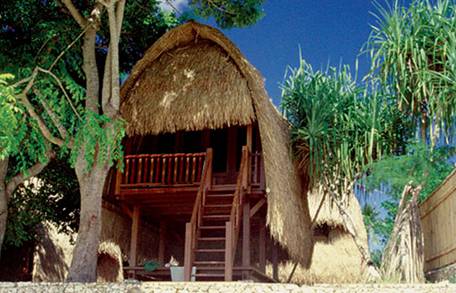 The unique design of the thatched roofed Hai Tide Huts is inspired by a traditional Indonesia rice house or Lumbung. All huts are fitted with ceiling fans, air-conditioners, and large glass doors which open out onto an intimate verandah perched two meters above a relaxing day bed.

Hai Tide Huts guests can enjoy all the Bali Hai Cruises Beach Club facilities which include a large two tier lagoon swimming pool, Ocean Kayaks, snorkeling equipment, glass bottom boat, banana boat rides, volley ball, full bar and restaurant facilities.

For the more adventurous, parasailing, surfing, fishing, and a range of island tours are also available. Bali Hai Diving Adventures can provide a world class diving service for guests at the Hai Tide Huts. Join one of our many diving programs and add another dimension to your experience of Lembongan.

Some of the best things in life are often the simplest! The Bali Hai Cruises Hai Tide Huts offer discerning travelers an opportunity to relax and immerse themselves in the natural beauty and serenity of the unspoilt tropical paradise island of Nusa Lembongan.
Stay a night and you will not want to leave!

Overnight packages from US $ 115.00 p.p. including pleasure cruise transfer, activities and breakfast.

Additional nights from US $ 80.00 per hut per night.

Absolute beach front huts can be confirmed for an additional surcharge of US $ 15.00 per hut per night.

A high season surcharge of US $ 15.00 per hut per night will be applied between 15th July and 15th September, and 22 December and 5 January inclusive.

ACTIVITIES
The following lists some of the activities available from the Hai Tide Huts.
Snorkeling
Semi Submersible Coral Viewer
Volley Ball (beach & pool)
Ocean Kayaks
Banana Boat Rides
Glass Bottom Boat Rides
Bicycles
Village & Island Tours
Relaxing
Full use of all pontoon facilities and optional activities :

Scuba Diving
Parasailing
Fishing
Mangrove Tour
Massage Services
Aristocat Castaway Cruise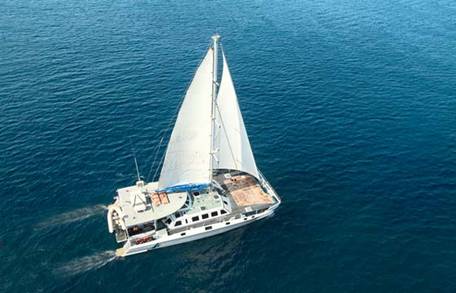 Swept ashore with a Castaway Cruise
Ever dreamt of being swept ashore onto your own private island paradise?

Begin the morning sailing to Crystal Bay in Nusa Penida onboard Aristocat, our 64ft luxury sailing catamaran.

Located on a remote tropical island, you'll be swept ashore at Crystal Bay, exclusive to Bali Hai Aristocat guests only.

Named because of its crystal clear waters, guests will have the opportunity to snorkel some of Indonesia's best coral reef, teaming with tropical marine life.

After a tropical bbq lunch under the palms, visit the rustic village and watch traditional wood carvers and sarong weavers at work. Have the opportunity to taste the local food 'cassava' and meet the islanders as they make flower offerings for their temple.

The Castaway experience is a complete haven of relaxation. Massage is available to guests throughout the day or simply relax in a hammock overlooking the bay.

Go Back to Nature, Relax and Escape in your own Private Castaway
Departs at 9.00am
Returns at 6:00pm (sunset)
Price : US $ 85.00
Children 8-16 years : US $ 57.00
Includes:

Morning Tea/Coffee, fresh juices and tropical fruit
Danish Pastries
Complimentary soft drinks during sailing
2 x vouchers during lunch for wine, beer or soft drinks
Tropical BBQ Lunch
Savoury snacks and fruit on return sailing
Snorkeling Gear and instruction
Volleyball
Guided Village Tour
Beach Towel
NOTE:
Castaway Cruise program operates every Tuesday and Thursday between the months of 1st April- 31st November. During non operational months Aristocat will sail daily to Bali Hai's Private Beach Club at Nusa Lembongan
Aristocat Evening Cruise
Begin the evening with a champagne cocktail and canapés in our Marina garden then be welcomed onboard Aristocat, our 64ft Sailing Catamaran ,to the sounds of our classical string quartet.
Aristocat, strewn with twinkling lights, will set sail towards Nusa Dua for an evening of fine dining and entertainment. From the sumptious fresh food to the sounds of the sea, Aristocat Evening Cruise promises a truly memorable evening aboard.

Price: US $ 55.00 per adult, US $ 37.00 per child up to 16 years old
Aristocat Nusa Lembongan Cruise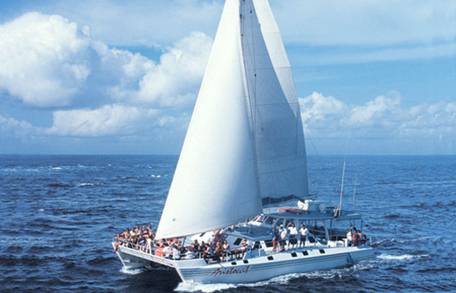 Sail away into paradise aboard Aristocat - The Luxury Sailing Catamaran. This stunning 64ft vessel is equipped to the highest standards and departs from Benoa Harbour to the idyllic isle of Lembongan, off the south-east coast of Bali, where you can experience the unspoilt charms of a peaceful tropical island. Enjoy a day in the pristine bay at Bali Hai Cruises private Beach Club, where you can relax on golden sand, lie back in the shade of tranquil gardens or cool off in a lagoon pool.

Complimentary soft drinks and refreshments are available on board Aristocat. At the Beach Club enjoy an appetizing BBQ lunch grilled at our poolside cabana, which includes salads, sausages, and fresh fish. After lunch, join a guided village tour of this small unspoiled island, home to seaweed farmers.

The Aristocat offers an array of water sports activities, including banana boat rides, pool volleyball, snorkeling, semi submersible coral viewer and glass bottomed boat tours. Other water sports options include a parasailing adventure which will take you high above the water for a birds' eye view of the island and scuba diving. Certified divers may travel further a field to experience life beneath the waves in this vibrant ocean channel.

And when the day is done, Aristocat makes a leisurely cruise back to Benoa Harbour, arriving as the sun sets on another glorious day in paradise.
Departs at 9.00am
Returns at 6:00pm (sunset)
Price : US $ 85.00
Children 8-16 years : US $ 57.00
Includes:

Air-conditioned Hotel Transfers
Sail to Beach Club
Morning Tea/Coffee and Snacks
BBQ Lunch
Snorkeling Equipment and Instruction
Beach/Pool Games
Children's Activities
Banana Boat Rides
Glass Bottom Boat Rides
Village Excursion
Sea Kayaks
Semi Submersible Coral Viewer
Ocean Rafting 3 Island Cruise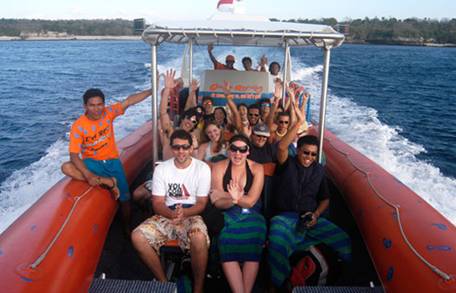 Experience Bali's fastest and most exciting full day cruise as you discover the magnificent sights of Bali's three sister islands.

Ocean Rafting, designed with the highest safety standards and equipped with 750hp, promises an exhilarating day of sight seeing and snorkeling at some of Indonesia's finest pristine coral reefs.
Sit Down, hang on and let's go!
Departs Daily at 10:30am
Returns at 5:30pm
Adults US $ 79.00
Children 10-16 years US $ 52.00
INCLUDES:

Air-conditioned Hotel transfers
High Speed Ocean Rafting Cruise to the 3 Islands of Lembongan, Ceningan and Penida
Cruise the South Coast of Nusa Penida and view 300 foot high coastal cliffs and Bat Rock
Visit pristine bays, snorkel, swim or go beach combing on deserted beaches.
Cruise through spectacular Ceningan Channel mangrove area
Visit one of the many small seaweed farming villages.
Picnic lunch is served onboard Ocean Rafting
Visit to Lembongan Bay marine park and Bali Hai Private Beach Club.
NOTE:
The daily Ocean Rafting itinerary will be determined by prevailing weather conditions.

The Ocean Rafting 3 islands day cruise does not have a fixed daily itinerary and will vary from cruise to cruise in an effort to maximize passenger's enjoyment.

Each cruise will always include a variety of sightseeing of 3 islands, high speed cruising and snorkeling.

Ocean Rafting is not suitable for children under 10 years of age, pregnant women or people with heart or back problems
Ocean Rafting Dolphin Cruise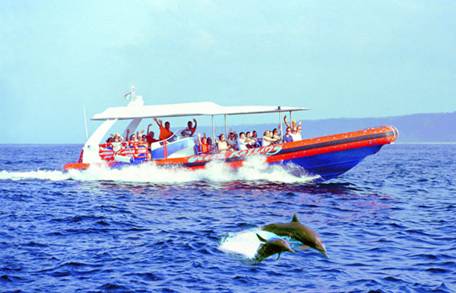 Departs Daily at 7:30am
Returns 9:30am
Adults US $ 49.00
Children 10-16 years US $ 33.00
INCLUDES

Air-conditioned Hotel transfers
High Speed Ocean Rafting Cruise along the coastline of Nusa Dua and Uluwatu
Fruit Juices and Pastries served prior to boarding
Dolphin spotting off the South Bali Coast
High Speed Cruise back to Benoa Harbour
Air-conditioned transfers back to Hotel
NOTE:
We have a 90% dolphin sighting success rate, however as dolphins are a wild marine animal (mammals), dolphin sightings cannot be guaranteed. Guests that do not see dolphins may come on the cruise again on a complimentary basis, subject to availability.
Ocean Rafting is not suitable for children under 10 years of age, pregnant women or people with heart or back problems.
Diving Adventures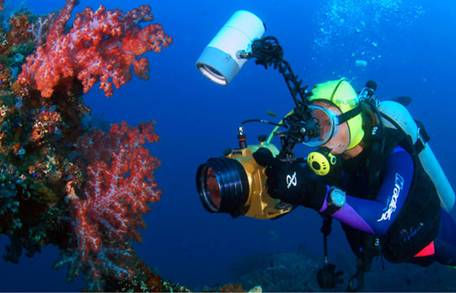 Add another dimension to your holidays The underwater dimensions

Pioneers of Nusa Penida/Nusa Lembongan drift dive sites and Bali's leading authority on the Mola Mola interaction, Bali Hai Diving Adventures have been providing safe and exhilarating diving services in Bali since 1991. Specialists in tailoring Dive Safari's for individuals or special interest groups, we provide day trips and extended stay programs for divers of all levels, at all of Bali's world class sites.

With 4 Dedicated Dive Facilities managed by PADI Professionals strategically located adjacent Bali's best dive locations and on GILLI Trawangan Lombok, no company is better positioned to ensure your diving experience in Bali is safe, rewarding, exhilarating and fun. Programs and amenity for Non Diving Companions and children are available at all locations.
Events and Charters
COMPANY PROFILE
An Australian owned company, Bali Hai Cruises launched in 1990. The company is the longest standing and largest premier offshore Cruise Operator in Bali, offering a variety of cruises to the nearby islands of Nusa Lembongan and Nusa Penida. Maintaining high standards of service all current operating licenses and certificates are available for company perusal.

VESSELS
Bali Hai Cruises operate 3 vessels out of Benoa Harbour sailing daily and all available for both group bookings and charter by both day and night. For large groups all vessels can be made available for transfer.

BALI HAI II:
A state of the art luxury motorized catamaran sailing daily from Benoa Harbour to Nusa Lembongan. Seating Capacity: Daytime: 316 passengers Evening: 210 passengers. 3 Decks:
Main Deck which includes full sound system and 6 televisions.
Bridge Deck with projector and screen linking main deck to bridge. External bar area.
Open Promenade deck.Vessel Sailing Time: Benoa - Lembongan approx 40 minutes.
OCEAN RAFTING:
Semi inflatable high speed vessel with a top speed of 46 knots and cruising speed of 33 knots/hr. Sails twice daily: First leaving early morning on Dolphin Cruise along the south coast of Bali (7:30-9:30am), Secondly sailing from Benoa on a 3 Island cruise of Lembongan, Ceningan and Penida (10:30am-5:30pm). Seating Capacity: 24 passengers Vessel sailing Time: Benoa - Lembongan approx 30 minutes

WATERSPORTS PONTOON:
Situated on the coast of Nusa Lembongan this 40x15m 2 deck pontoon is equipped with a 38m curving waterslide, lifeguard supervised snorkeling area, banana boat, underwater viewing chamber, semi submersible coral viewer and optional scuba diving and parasailing. Bali Hai II moors alongside the pontoon and an international buffet lunch is available onboard.

BALI HAI BEACH CLUB: FACILITIES AND ACCOMMODATION
Bali Hai Beach Club and Hai Tide Huts are situated on Nusa Lembongan and are the only full facility with beachfront access. This tropical hideaway can hold up to 500 day guests and has 15 air conditioned and traditional Hai Tide Huts for overnight stay. There are 2 restaurants, 2 swimming pools including a swim up bar, a sunset drinks bar as well as a spacious lawn perfect for corporate team building activities.

CRYSTAL BAY, NUSA PENIDA: FACILITIES
Aristocat sails twice weekly to the remote and unspoilt Crystal Bay on Bali Hai Cruises Castaway experience. The bay is exclusive to Bali Hai guests and offers a haven of relaxation. For group bookings and charter we can arrange a themed Castaway Survivor Challenge day out complete with group tasks such as rafting racing and survival games.

CONFERENCES AND EVENTS: STAFF MOTIVATIONAL TRAINING IN A UNIQUE WAY
A company's best assets are their staff. A vibrant and motivated member of staff can soon fade when communication breaks down and people feel they are not appreciated or valued in the workplace. Team building and development is a combination of conventional and creative techniques designed to connect people to themselves and to each other. Whether you're using our private Beach Club as a conferencing location or enjoying team-building games aboard the vessels, Bali Hai Cruises provides a first class company experience to remember!Creating an opportunity and a space where this can occur, is the greatest investment you can make in your best asset