Home » My Services » Bali Horse Back Riding
Bali Round Trip - Bali Horse Back Riding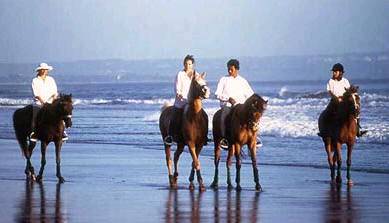 Bali offers an image of paradise: stunning scenery, gentle sarong-clad people and sunsets of legendary glory. See Bali in a way you've never seen it before with Driver Bali round trip packages. Join Driver Bali horse-riding treks which take you through the lush rice terraces around Kerobokan or come with us to gallop through the surf along the beautiful south-western coast.

With a choice of professionally-trained horses and ponies, and the latest riding and safety equipment, we offer a Bali Round Trip tour like no other in Bali. Choose from lunge and dressage lessons for beginners and advanced riders or riding excursions on one to three hour treks to the beach, journeys through the lush rice fields and Balinese villages or a special sunset ride along the beach.

Discover the wonderful world of horse-riding under the guidance of experienced trainers. An ideal way to experience Bali in an active way. Then relax on a sun bed by the swimming pool, take a refreshing dip, enjoy a soothing whirlpool massage or unwind with a drink and a delicious meal in the new restaurant - a holiday experience to remember.
Rates include lodging, all breakfasts, one candlelight dinner, riding program with professional guides
8 days/ 7 nights $ 850
Single room supplement: +$245
2008 Dates
:
weekly all year
Meeting
:
Ngurah Rai
Airport
:
Denpasar
Transfer
:
Included
Level:
:
from Novice to Advanced
Tack:
:
English
Horses:
:
Crossbreds, Thoroughbreds, Ponies, Australian stock horses
Pace
:
all paces
Min/Max Riders
:
1-8
Riding options for the week:
Touring Program 1
1 dressage lesson,
4 x 2 hr beach rides, 2 x1 hr rice field rides

Touring Program 2 - with picnic
1 dressage lesson, 2 x 3 hr picnic rides,
3 x2 hr beach rides, 1 x 1 hr rice field ride
.... add $100 for this option

Riding Holidays Program
4 dressage lessons,
2 x 2 hr beach rides, 1 x1 hr rice field ride
.... deduct $25 for this option

Non rider accompanying rider $465 B&B
Candlelight dinner includes: Grilled steak and seafood, different vegetables and salads, different deserts (as much as you can eat) and a glass of red or white wine.

Sightseeing option: A one day Matangi sightseeing trip is available at $80 pp with prior arrangements

Climate: Bali is 8 degrees south of the equator. Temperatures vary between 21o and 32oC (70-90o F).

Two seasons: Dry from May to November, with July being the coolest month; rainy from November to April, with February being the hottest month.
Humidity averages 75 % and above, year round.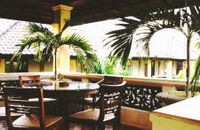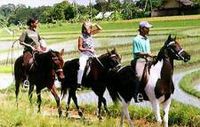 Accommodations
Your are staying in beautiful decorated rooms that are part of this magnificent riding center. You will find a saltwater swimming pool, 6 comfortable guestrooms with terrace or balcony, private bathroom, air conditioning, mini bar. There is a very well managed international restaurant that is available for lunch and dinner (not included), or you can wander off and dine in one of the many other restaurants nearby.
The Stable facility offers a covered riding hall and outdoor arena. The outdoor arena has stunning views, the covered riding hall allows for riding even on a rainy day.
The outside riding arena offers stunning views of the surrounding rice paddies. Riders enjoy being on horseback surrounded by coconut palms and fragrant tropical flowers.
Daily Program
Lungeing or dressage lessons in the hall available from 7 am - 12 noon and
2 pm - 6 pm
Riding excursions:
2 hour beach tour: 8 am - 10 am
1 hour rice field tour : 10.30 - 11.30 am
3 hour beach tour: 3.30 pm - 6.30 pm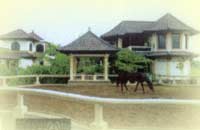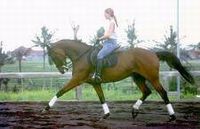 We will provide:
Helmets, leg protectors and safety instruction. Fully trained guide instructors supervising the activity. Trained horses suitable for all different riding levels. All tours are accompanied by one or more expert horsemen.
Optional Matangi Tour: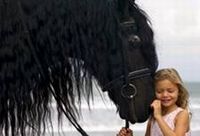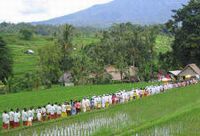 A Royal Journey

Let us introduce you to a charming Prince, whose grandfather was a real Balinese King. Sit with him for a coffee and a chat, learn about Balinese culture or just have a few laughs and relax in the presence of this extraordinary member of the Tabanan Royal Family.

As the journey goes on, travel with us to some divine and mystical places, way off the beaten track. Hidden waterfalls, unknown hot springs or secret temples are some of the impossible to find on your own, but not to be missed locations we go to.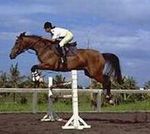 A traditional gourmet lunch is served at our private hideaway, a truly delightful jungle clearing where guests dine in an elegant pavilion surrounded by lush foliage and stunning views.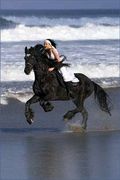 In an original Balinese village, you are likely to meet characters like the local shadow puppet master, one of the village priests, a mask dancer or another one of our many friends who make your visit to Bali a memorable one. The cost for the trip is about $89
Every tour is a "one of a kind" adventure in paradise. A guaranteed exceptional experience not found in any guide book or hotel tour desk. Suggested pick-up time is 8 in the morning and you'll be back to your hotel around 5 P.M. Guests need to bring nothing but comfortable walking shoes.