Home » My Services » Bali Safari Marine Park
Bali Safari Marine Park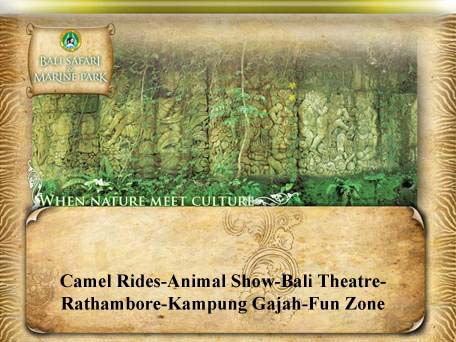 Bali Safari Marine Park is the latest creation from the operators of the world renowned Taman Safari Indonesia, a name known for more than 20 years for its creative, back to nature animal exhibits and incessant conservation work. Building upon the innovations of their existing parks at Bogor near Jakarta and Prigen near Surabaya, and using the latest in concepts in park design, Taman Safari Indonesia has exceeded all expectations with their newest park. Set on 40 hectares of land with breathtaking natural surroundings at the cultural centre of Bali, Gianyar, Bali Safari and Marine Park is extremely active in assisting the protection and conservation of endangered species that are constantly losing their habitat. This includes helping scientists by carrying out research on many different wild animals conservation projects.Bali Safari & Marine park also runs conservation and education campaigns and other extension activities.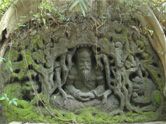 Ancient Bali Track
Your journey starts by entering a valley path through a sacred forest with reliefs carved in the basalt cliffs of the religious epic stories of the Ramayana and Tantri. In this area people can feel the traditional ambience of Bali's culture from past centuries.
Terminal Bali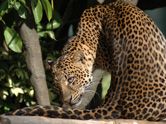 Upon arrival at Lobby Barong, visitors can view Javan leopards, Sinyulong crocodiles and many varieties of fish. From there they venture past the Hindu Temple to the traditional market, steeped in Balinese atmosphere. Here Balinese dance classes are held in the Bale Banjar (see schedule for times) there are Barong dances performed in the market (see schedule) and dance performances in the Uma Restaurant (see schedule). Children's pony rides are also available here.
Package Info
Jungle Hopper USD 25
Park Admission Safari Tram Tour (up to 2 times)
Water park (free entry) Funzone (unlimited)
One (1) voucher photo with animal
Leopard Package USD 78
Free Elephant Ride or Camel Ride
Hotel Pick up Transfers
Park Admission Safari tram tours
(up to 2 times)
Funzone (unlimited)
Waterpark (free entry)
Animal photo
Welcome drink
Animal show
Lunch at Uma Restaurant (set menu)
Souvenirs
Rhino Package USD 100
Free Elephant Ride or Camel Ride
Hotel Pick up Transfers
Park AdmissionSafari
tram tours (up to 2 times)
Funzone (unlimited)
Waterpark (free entry)
Animal photo
Welcome drink
Animal show
Lunch/diner at Tsavo Lion Restaurant (set menu)
Souvenirs
Show Schedule
Animal Education Show

10.45
13.30
15.45

Hannuman Stage

Elephant Coservation & Education Show

11.30
14.30
16.30

Kampung Gajah

Elephant Bathing

13.45
16.00

Ganesha

Balinese Bamboo Music

10.00 - 12.00
13.00 - 15.00

Terminal Bali
Uma Restaurant

Balinese Dancing Class

09.00 - 15.00

Bale Banjar